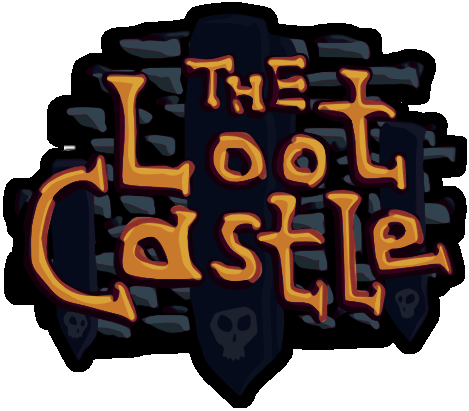 The LootCastle
A downloadable game for Windows
The LootCastle is a strategy game in which you defend a castle from invading knights. Instead of controlling your skeletons directly, you improve them with skill trees constructed by you.
Have a look at the website I made for the game. I contains the following information and a lot more!
http://the-lootcastle.stevencolling.com/index.php
Defend Your Castle
In The LootCastle, your home gets invaded by false-faced knights which want to kill you, the skeleton king, and loot all your treasures.
Your skeletons are scattered across five rooms: the Barracks, the Kitchen, the Laboratory, the Altar and the Throne.
Create Your Skill Trees
You don't control the skeletons by yourself. Instead, you have a skill tree for each of the five rooms.
The skills are based on templates, but their precise values are randomized, given the skill's level, rarity (white, green, blue, purple, orange, red) and a bit of luck.
Rank Up
That skills take effect, they must be placed in the skill tree and ranked up with skill points. Each rank increases the strength of the skill.
If the skill tree gets full, you can unlock new space for skills. While the skills at the top of the skill tree drop out, new space at the bottom is generated, giving you the chance to slot skills of higher levels and therefore stronger ones.
Let Them Fight
Skeletons and knights give their best to be victorious. So expect a lot of popping damage numbers.
Killed knights give you money and experience and in the end, new skill points to invest, higher levels to get and therefore better skills generated.
Manage Your Skeleton Army
The fights follow the hit-crit-block-formula: a fighter attacks and hits with a certain chance while hits can be critical with increased damage output. The opponent can block an incoming attack and reduce the amount of damage.
All these attributes can be affected by the skills. Beyond plain attribute increasing skills, there are a lot of special skill behaviors to discover, like poisons, potions or effects triggered on certain events.
User Content
The LootCastle comes with a skill editor, so you can make your own skills and share them with others!
About Me
My name is Steven Colling, born '88 and I'm an independent game developer from Germany. This is my first commercial game.
Purchase
In order to download this game you must purchase it at or above the minimum price of $5.00 USD. You will get access to the following files:
the_lootcastle_1_2_3.zip
50 MB