Isle of Lore 2: Status Icons
A downloadable asset pack for Windows, macOS, and Linux
Isle of Lore 2: Status Icons is a set of 120 status icons covering all your commercial and non-commercial roleplay, rogue-like and survival video game needs: describe and keep track of the status effects of your players and their foes or use them in print with their high resolution, be it as part of your commercial tabletop rpg product you are writing, to spice up your virtual tabletop session or print them out as markers to show what buffs and debuffs your characters currently have to endure!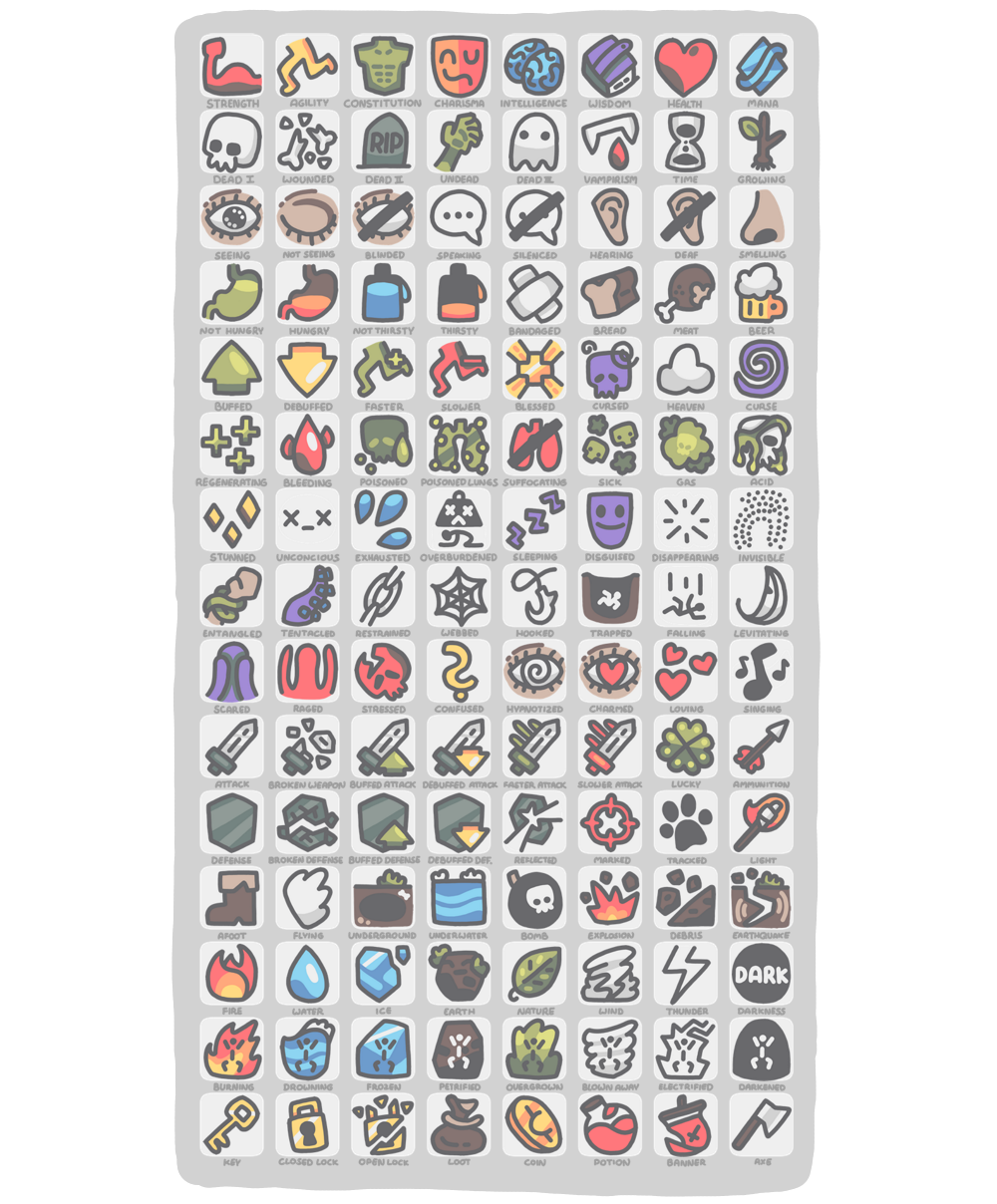 The icons are 512x512 px and therefore 43x43 mm on paper (at 300 DPI). They come as single png files and sprite sheets, with a white icon background or fully transparent without any background at all. The Krita/Photoshop source files separate linework from coloring, so you can make your own modifications and re-colorings.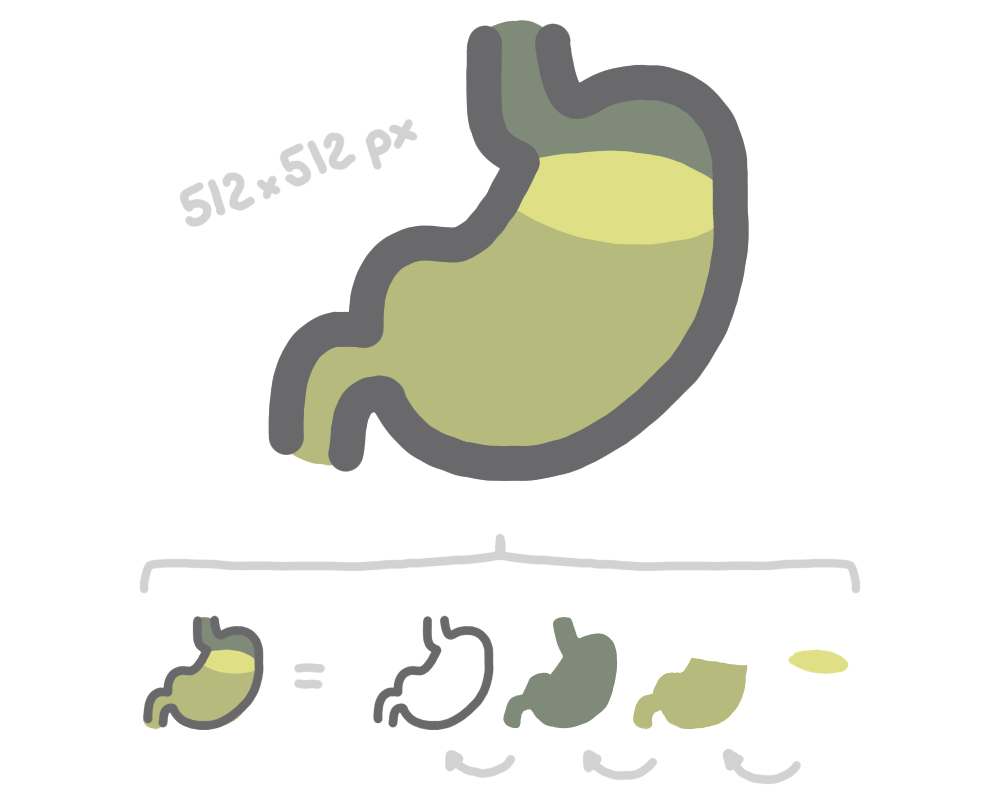 Finally, the pack includes special increment icons to mark distances for afoot, flying, underground and underwater entities, which are intended to be used as tokens for tabletop rpg players to mark the distance between the player and his foe. The time markers could be used to indicate how many rounds a creature remains stunned or enchanted. All 5 types of markers come in 24 increments, adding another 120 icons to the set.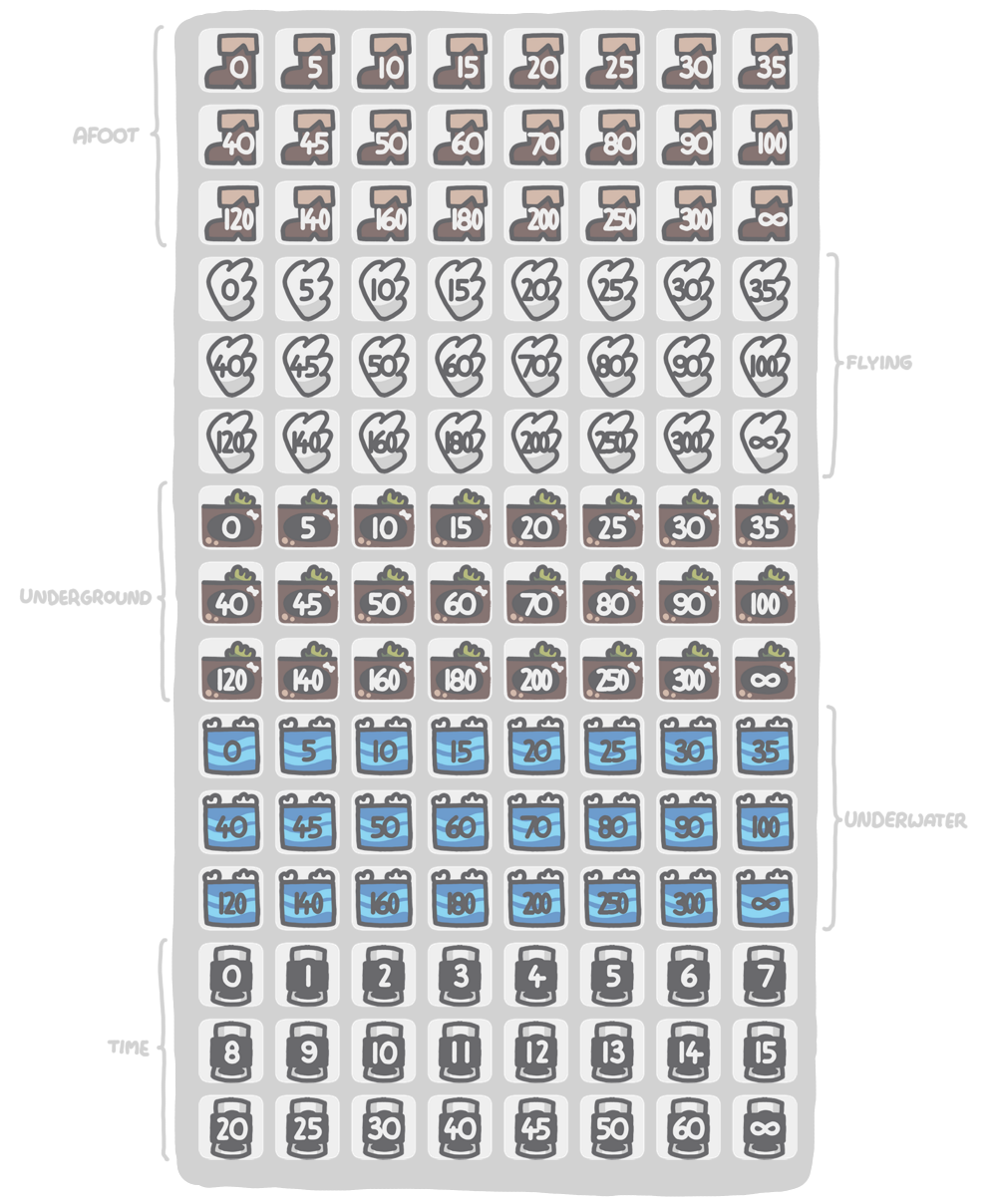 License: If you bought the assets, this license grants you the right to use the game assets provided, consisting of the images, in any number of non-commercial and/or commercial projects, including software, websites, games and print projects. No attribution is required. You are allowed to modify the game assets. Do not distribute, re-package or sell the modified and/or unmodified game assets on their own or as part of a collection, except if they are content files of your non-commercial or commercial project.
| | |
| --- | --- |
| Status | Released |
| Category | Assets |
| Rating | |
| Author | Steven Colling |
| Genre | Role Playing |
| Made with | Krita, Adobe Photoshop |
| Tags | buffs, debuffs, Effects, Hand-drawn, Icons, state-icon, status-effect, status-icon, tokens |
| Links | Mailing List, Discord |
Purchase
In order to download this asset pack you must purchase it at or above the minimum price of $9.99 USD. You will get access to the following files:
isle-of-lore-2-status-icons-all.zip
151 MB
Comments
Log in with itch.io to leave a comment.
I had buy all of this~, Could you please draw some assets for UI?
Dang! I literraly wrote a message to steven about that.
I also think a ui kit would be the greatest addition to this package :)
It's unlikely, but I put it on my list of potential future projects! Sorry about that, but my plate is rather full right now :D
Oh, Please~ I am waiting for UI assets. just few dialog, button.
I just can't imagine what color can be used with this assets.
if you support few dialog, button exsamples, I can figure out other ui base on it.
Could you please put this on Unity asset store? I'm going to buy 2 assets of yours on Unity store which is currently at discount(they were in my wish list for a long time) and would love to buy this new one at discount too if possible.
It will take some time until I come around to put it on the Unity store, but I'm going to prepare a sale here on itch.io very, very soon. Would that be okay?

Cool. I've bought these two on Unity store already. If it's at the same price as these two, I would happily purchase it anywhere.
Hey, great icons. Just bought through Roll20 and have a questions about using them with StatusMarkers script. I have a macro that sets token icons for conditions (based off of Roll20 Condition Macros – Geek Fight Club) but I'm having trouble referencing your icons. I think it's because they have spaces in the names (i.e. "18 blinded").

If I've got a scrip line as follows, how do I call them?
!token-mod --set statusmarkers|!18 blinded
Kind of weird as I thought I would follow the Roll20 guidelines by replacing the underscores with spaces upon submission. If you want, I can give you an itch.io key where you can download (and replace) the status icons with files having underscores in their names, by writing me a mail at info@stevencolling.com. What do you think?
I don't use Roll20 macros myself, but as a quick thought, did you try to use quotation marks around the file name? Like:
!token-mod --set statusmarkers|!"18 blinded"


Thanks for the response! I'm not familiar with the macro syntax so I just tried a bunch of stuff - quotations, square brackets, curly brackets, and paras. Nothing worked.
Let me continue to try and find the right syntax before going the renaming route. I'm not quite ready to rename dozens of files and re-upload all of them just yet :) I'll send you an email if I do reach that point.
But I do love the tokens!

Thanks, and like I said, if you don't want to rename them by yourself, I can give you the files with underscores instead of spaces. Good luck! :)
Good to know, thanks! How are the spaces masked then when you read out a name with spaces in it?
Do you have blank ones for your increment icons? I like the style but I don't need them in increments of 5 and would use a different number instead.
Are you selling the font that you used as well? Or do you know where I can buy it?


Yes, the source file separates the icon from the numbers, so you can draw your own numbers on top. I didn't use a font though, it's my personal handwriting, but the source file also includes the numbers 0-9 so you could use them to create arbitrary numbers (probably have to reduce them a bit in size beforehand).

Wow thank you for the fast reply. You have beautiful handwriting :)
I just bought all of your asset packs, even though I won't be able to use them.

I hope you'll be able to make a font with your writing (letters, numbers, symbols), and a top-down square version of your hex tiles in the future! Keep up the great work!

A little addition of 8 icons can be downloaded here (including sources). I will update the pack with these, but I don't know when I come around to do that, as I want to try something else with this asset pack beforehand.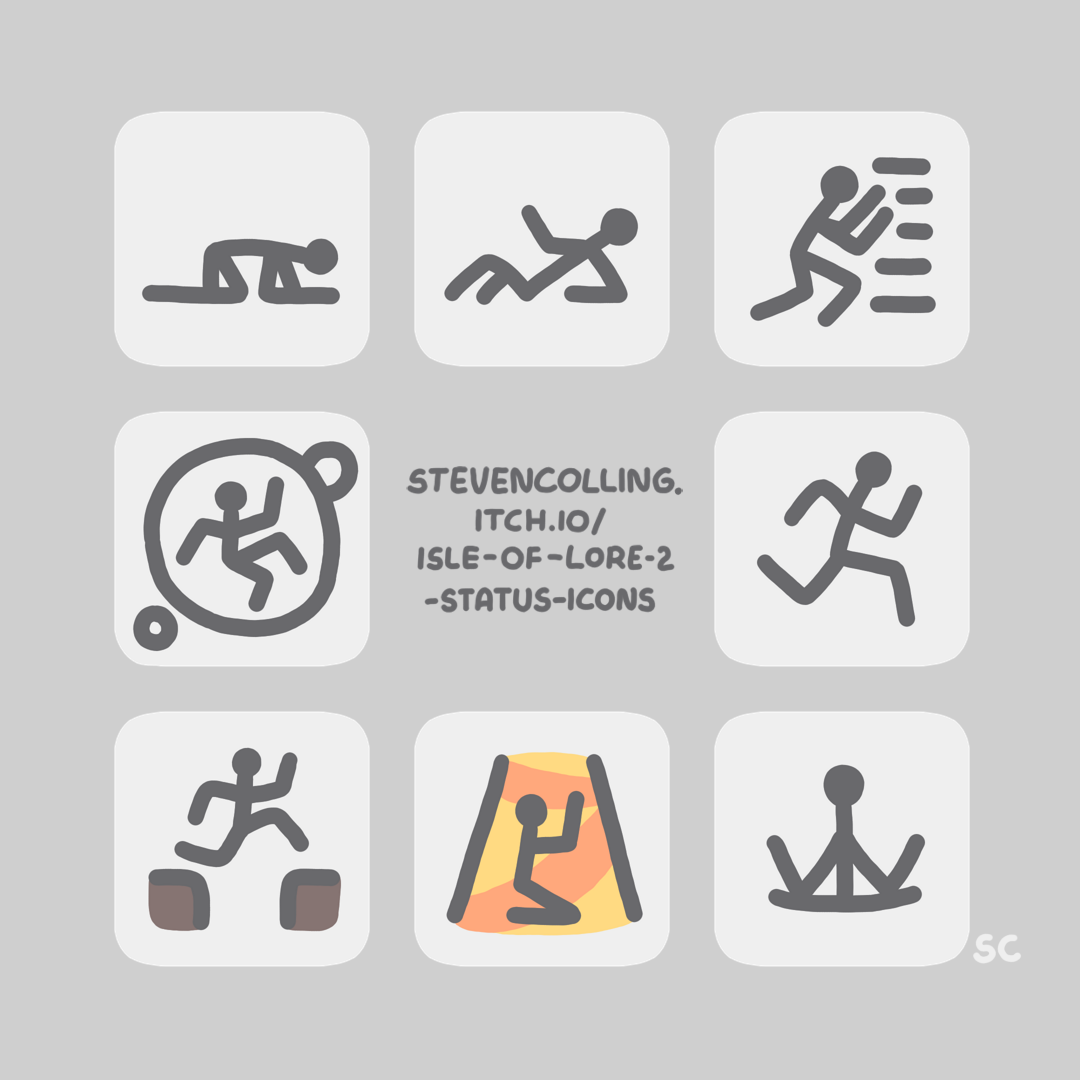 I love these icons and use them in my Roll20 games, but I find that I'm missing an icon for prone. Any chance you could add one?
Hey there! I'm not a native English speaker, so sorry for the question, but prone in that context means lying on the ground, but in general still able to act with disadvantages?

I will make such an icon on Monday for you and post it here. I'm not that familiar with Roll20, but is it possible that you add such a single graphic then by yourself to your Roll20 tokens? Because until I come around to update the whole pack (with the icon), it will take a bit of time (mostly because I'm in the progressing of setting setup a new exporting routine for my assets, which isn't 100% done)!

Really nice, good surprise :)